DFC engines may take up to 14 weeks to ship. Please contact us to verify lead times if you are in a hurry, before purchasing.
The DFC Diesel Tow/Haul Series engine comes standard with all the upgrades found in the Street Series model as well as several enhancements to make this engine perfect for towing, hauling and performance applications up to 600 HP.
THIS BUILD CONSISTS OF:
Contains all upgrades of the Street Series and includes;
DFC long block assembly
ARP series 2000 head studs
ARP connecting rod bolts
O-ringed cylinder heads
Powerstroke Products new billet camshaft
Chamfered piston bowls
Ceramic coated piston crowns and dry film coated skirts
DFC HD push rods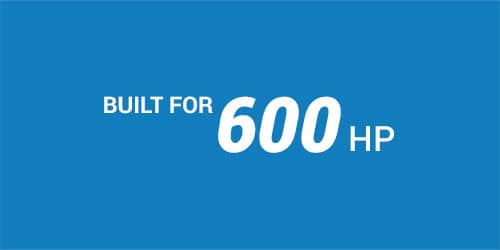 *Rated HP is measured at flywheel same as factory engine HP ratings
DFC can build a very durable and robust combination for your specific needs and all still backed with a 5 year 160,000km (100,000mi) parts and labor warranty. Make us your only choice for Powerstroke diesel engines in North America.
Tow/Haul and Tow/Haul HD series engines still come backed with a 5 year 160,000 km (100,000 mi) warranty however are considered a severe duty application and require more frequent service intervals as stated in warranty manual supplement for warranty coverage to be considered.
New Engine Checklist (Replacement Items - Sold Separately):
Oil Cooler - highly recommended and mandatory if your past engine had a bearing failure.
Injectors - highly recommended especially on higher model engines or engines with contaminated fuel.
Turbocharger - recommended if mileage over 125K, mandatory if shaft play, or if engine was dusted.
Water Pump - highly recommended if engine has over 125K.
Evans Waterless Coolant - recommended upgrade to prevent corrosion and boilover.
The specific brand of each component may change due to part availability at the time of each build. Parts are chosen at the discretion of DFC and cannot be specially requested. DFC uses only the best components sourced from multiple brands during the remanufacturing process and backs their engines with an industry-leading 5-year 100,000 mile warranty.
Note:
$500 Crate charge is included in core charge total. Engine shipping crate must be returned with core engine to receive full core credit.
Not available for sale in the state of California
Full Warranty Information:
DFC stands behind their products with an industry leading 5 year/ 100,000 mile warranty.
Is this for commercial use? If so terms may vary, please click here to review DFC's full warranty information.
Part number:
TH640810AULB