HIGH PERFORMANCE - HIGH FLOW
BULLET PROOF
12MM X 1.5 BANJO BOLT with a pair of sealing washers. 

We search the diesel forums looking for problems that could be solved with a new product. One complaint that caught our attention is the poor quality of high flow banjo bolts on the market. Guys are snapping the heads off of the aftermarket high flow 12MM banjo bolts.
Curious about this problem, we purchased some banjo bolts on Ebay. We built a fixture to torque test stock and aftermarket 12MM banjo fittings. This will be the base line in order to make a better product. This is what we found.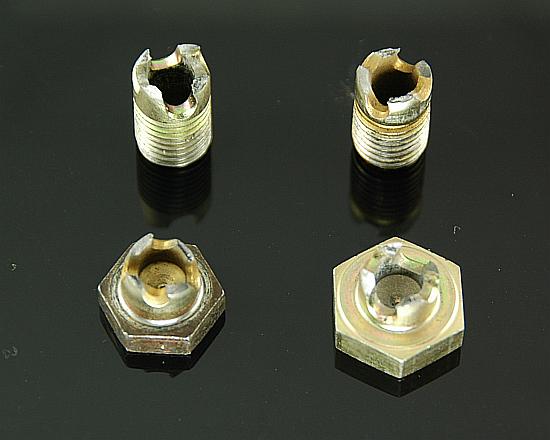 Stock OEM 12MM banjo bolt - Distorts at 35 ft. lbs. Breaks at 45.8 ft. lbs.           
Aftermarket high flow 12MM fitting - Distorts at 18.3 ft. lbs. Breaks at 20.8 ft. lbs.
My first thought was the enlarged exit holes weakened the aftermarket bolt so much that over half of the strength was lost. That's only part of the story.
Now it's time to put the banjo bolts in a Rockwell hardness tester. This highly accurate machine presses a carbide pointer into a material and measures the force it takes to indent the steel. The result of these tests were on the Brinell scale.
The stock banjo bolt measured from 190 to 205 Brinell. It depends on where we measured. The head was harder and the machined portion was softer.
The aftermarket 12MM high flow banjo bolt shocked us. This material is junk! The Brinell hardness averaged 120. Guys - that cold rolled steel! No wonder they are breaking.
The crappy steel and the larger holes weakened the high flow 12MM bolts by 25 ft. lbs. 
Here Is How We Fixed The Problem
We made some prototypes on our Hurco CNC turning center using some pre-hard material. To be honest, we weren't pleased with the results. The torque results were slightly better than a stock banjo bolt. Our goal is a bullet proof 12MM HIGH FLOW banjo bolt.
Now for test number two. The second set were machined out of premium alloy steel. Using the bolts in this state would offer very little improvement in strength. The torque test proved this out. The samples were sent out for heat treating and tempering.
WOW what an improvement!! It took 64.6 ft. lbs. to break them in half! You will strip the threads in your fuel system before you break these banjo bolts. Using a high grade alloy steel and heat treating the steel made all the difference.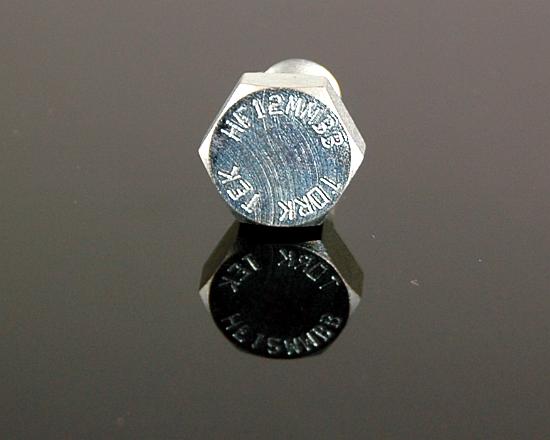 If you want high performance 12MM X 1.5 banjo bolts with the largest inlet and outlet holes on the market AND unbreakable, order the HF12MMBB today.
These 12MM banjo bolts are to be used in low pressure fuel systems only! DO NOT, under any circumstance use them in a braking system.