DFC engines may take up to 14 weeks to ship. Please contact us to verify lead times if you are in a hurry, before purchasing.

The DFC Diesel Tow/Haul Series engine comes standard with all the upgrades found in the Street Series model as well as several enhancements to make this engine perfect for towing, hauling and performance applications up to 700 HP.
THIS BUILD CONSISTS OF:
Contains all upgrades of the Street Series and includes;
DFC long block assembly
ARP series 2000 head studs
Cometic multi-layer steel head gasket (94-02)
Colt Cams stage 3 camshaft
60lb HD valve springs (94-98)
Hamilton Cams 103lb HD valve springs (98.5-07)
DFC HD push rods
Bolt in rear aluminum freeze plug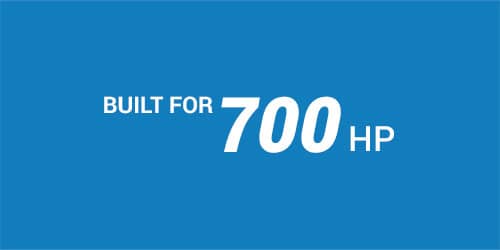 *Rated HP is measured at flywheel same as factory engine HP ratings
New Engine Checklist (Replacement Items - Sold Separately):
Oil Cooler - highly recommended and mandatory if your past engine had a bearing failure.
Injectors - highly recommended especially on higher model engines or engines with contaminated fuel.
Turbocharger - recommended if mileage over 125K, mandatory if shaft play, or if engine was dusted.
Water Pump - highly recommended if engine has over 125K.
Evans Waterless Coolant - recommended upgrade to prevent corrosion and boilover.
Application Note:

The specific brand of each component may change due to part availability at the time of each build. Parts are chosen at the discretion of DFC and cannot be specially requested. DFC uses only the best components sourced from multiple brands during the remanufacturing process and backs their engines with an industry-leading 5-year 100,000 mile warranty.
Shipping charges are calculated based on shipping to the lower continental 48 states to a business with fork lift or loading dock. If you need this item shipped to a residential address, please call for an accurate shipping quote.

Note: $500 Crate charge is included in core charge total. Engine shipping crate must be returned with core engine to receive full core credit.

Please drain all fluids, if any, from the core. The core returned must be a like-for-like make, model, type and part number. Cores will not be accepted from a salvage or junkyard. Cores that have been disassembled or have missing and/or damaged major components will not receive full core credit. Cores returned with destroyed blocks or other severely damaged components may be subject to a pro-rated core return. Please call us to discuss possible deductions.


Emissions Notice
This product is not legal for sale or street use in California. Certain aftermarket products are subject to governmental emission standards regulated by the California Air Resources Board. In order for these products to be legal on a specific vehicle in California, the part number must receive a CARB Executive Order (EO) number. This number makes the part legal for use only on specific years, makes and models of vehicles. A decal with CARB EO number for these parts must be displayed in the engine bay to satisfy smog inspection requirements.
Full Warranty Information:
DFC stands behind their products with an industry leading 5 year/ 100,000 mile warranty.
Is this for commercial use? If so terms may vary, please click here to review DFC's full warranty information.
DFC Diesel Part Number: DFCTH5904507STAULB