Calibrated for sport, Six-Gun delivers pavement-shredding power at the rear wheels. Has 6 change-on-the-fly power levels plus Stacked for Power to tune timing and fuel pressure.
US Patent # 7,593,808 & # 7,254,477
Specifications:
Tuning that doesn't kill the host vehicle.
Many tuners reduce fuel delivery as exhaust gas temps rise. But they ignore the powertrain! Banks finds the limits of the engine and powertrain, then adds mission-critical ActiveSafety® safeguards to Six-Gun® so it won't exceed those limits. As a result, Six-Gun thrashes challengers, not your truck! Airflow upgrades recommended.
Proof of a higher power.
Calibrated for sport applications, Six-Gun is a performance junkie that adds +100 hp/+195 lb-ft. With its CleanTune® Technology and 6 change-on-the-fly power levels, Six-Gun rockets you from 0-60 mph 19% quicker and in 36% less distance than stock ... without adding soot!
Banks iDash SuperGauge is packed full of awesome! Use it for total control of your Six-Gun Tuner. Achieve best gains with a touch of your finger. Set and monitor EGT, coolant temps and a vast array of other engine parameters. Scan/define/clear vehicle diagnostic codes.
Upgradeable options include airflow components to build a complete engineered power system. For best Six-Gun Tuner performance, Banks always recommends airflow improvements.
All gains measured at the rear wheels, with recommended airflow improvements.
Key Features:
Gain up to

+100 hp/+195 lb-ft

at rear wheels

Enhanced vehicle monitoring w/ SuperGauge

Destroys the competition, not your vehicle!

ActiveSafety protects engine/powertrain

6 change-on-the-fly power levels

View up to 100 parameters

0-60 mph 19% quicker!

Loaded with Features

Value Priced

Easy Install
Test Results
Turbo-diesel: 6.6L Duramax LBZ, '06-07
Test vehicle: 2006 Chevy Silverado 2500, 4WD, crew cab short bed, automatic transmission.
Horsepower and torque measured at rear wheels.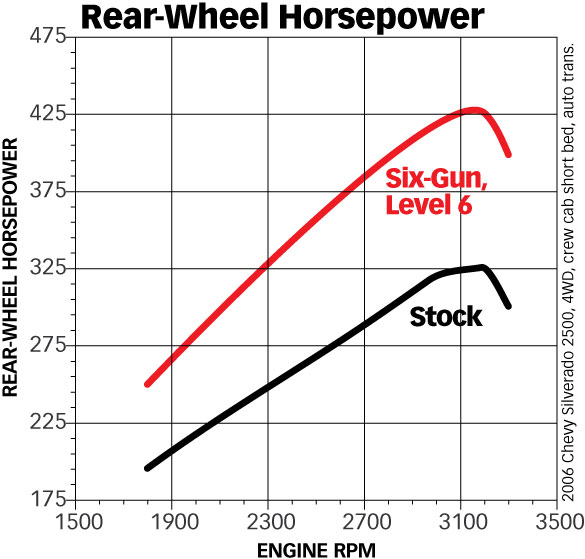 Note: Banks Horsepower and Torque tests performed with recommended airflow improvements
Six-Gun, Level 6

Stock

Banks

Improvement

Results

Rear-wheel Horsepower: Best gain

298.2 hp




@2800 rpm

398.0 hp




@2800 rpm

+99.8 hp

34% more

Rear-wheel Torque: Best gain

560.3 lb-ft




@2600 rpm

755.5 lb-ft




@2600 rpm

+195.1 lb-ft

35% more

Rear-wheel Horsepower: Peak-to-peak

325.4 hp




@3200 rpm

425.0 hp




@3200 rpm

+99.6 hp

31% more

Rear-wheel Torque: Peak-to-peak

574.4 lb-ft




@2200 rpm

755.5 lb-ft




@2600 rpm

+181.1 lb-ft

32% more

Acceleration, time: 1/8 mile

10.57 secs

9.71 secs

-0.86 secs

8% quicker

Acceleration, time: 1/4 mile

16.24 secs

14.88 secs

-1.36 secs

8% quicker

1/4 mile truck lengths over stock (1 truck length = 20 ft)

—

—

8.3




Truck Lengths

—

0-60 mph time

8.36 secs

6.77 secs

-1.59 secs

19% quicker




Banks Power: 61414